WEDDING MENUS
Simply delicious food…
.
Delicious food that is suitable for the whole family is essential for every wedding. You can trust the chefs at Walkabout Creek to wow your guests.

Remember, we include in all packages 6hrs of venue hire, beverages, grazing boards on arrival and your cake for dessert. Simply select from a Plated, Banquet, Buffet, or Cocktail reception to find out the price: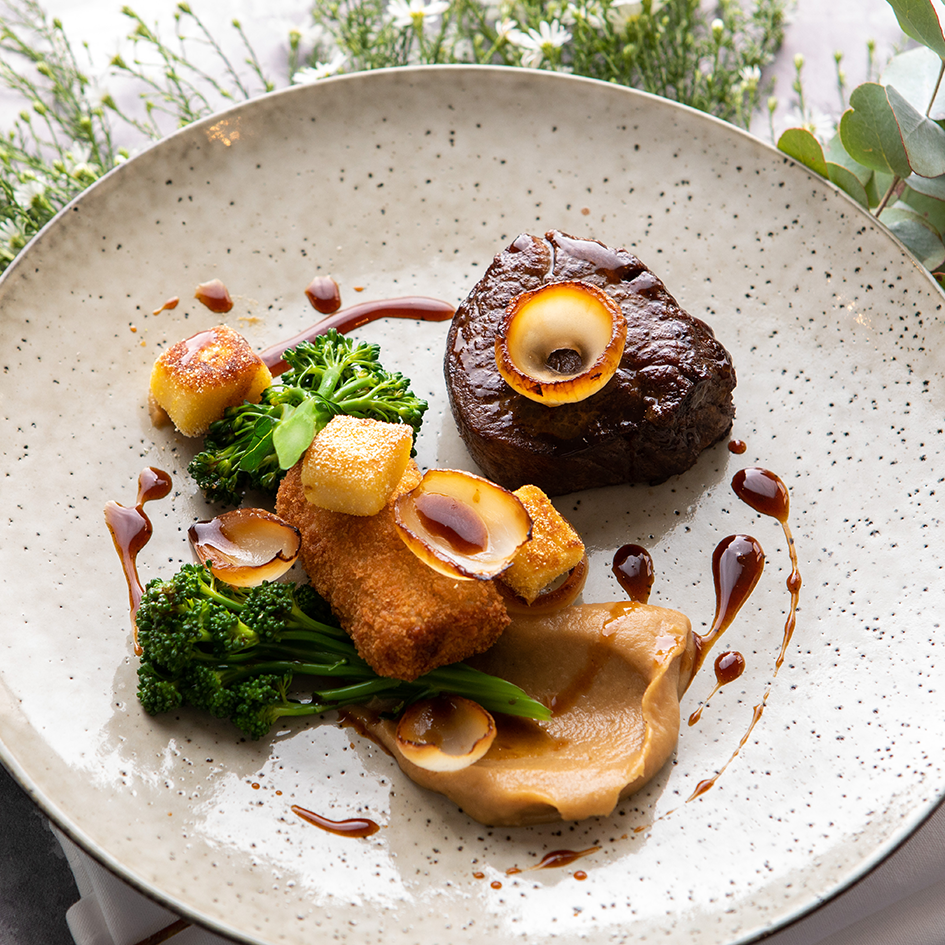 CHILDREN 2-12 YEARS: $55 each   TEENAGERS 13-17 YEARS:  minus $25 each from your package   SUPPLIER MEALS: $42
What's included our

packages

?
The food and service were impeccable.
The deck itself was the perfect location whilst being covered and protected and providing the outdoor feel we were after. Set against a gorgeous backdrop, looking out over the trees and creek and above the animal sanctuary
What an amazing wedding space, it was everything I could have imagined. The lawn was so stunning and loved that our whole wedding could just be at one space, no additional travel.
Planning a wedding is supposed to be stressful but the whole process was a walk in the park! Communication was amazing from the very first day, and nothing was ever too much of a hassle. If you are looking to plan your perfect day, look no further!
A beautiful venue in the forest for a wedding. The reception for 100 plus guests was well organised and wait staff were attentive and helpful.
Walkabout creek was exactly what we wanted when booking a wedding venue. Nothing was too much or too little and we had so much flexibility when it came to styling, food, and beverage packages, which we found refreshing when comparing it to other venues.
We had our wedding reception at Walkabout and it was a beautiful night! It's a stunning location, with great catering and a great team who go above and beyond for you!
The wonderful staff that arranged our wedding did an amazing job, the venue was beautiful. The staff were friendly, professional and punctual and the food was delicious. Highly recommend this venue to friends and family.
Walkabout Creek was our dream wedding destination. Food was incredible, the staff were lovely and very accommodating. 6 months later and our guests are still raving about the best wedding they have ever been to!
Incredible venue and staff to match. We had the best day and couldn't thank the staff enough for all their hard work to make our special day. The place is breathtaking.
Do you cater for special dietary needs?
Gluten free, dairy intolerant, vegetarian, vegan; we can cater to them all. Guests requiring a special meal will be catered for according to their needs at no extra cost. You simply confirm your guests dietary requirements two weeks before your wedding, and we will provide alternative meals as required. We take pride in offering a range of dietary specific meals that don't substitute taste or quality.
Do we have any flexibility with the menu?
If you wish to make any alterations to the dishes, please consult the wedding co-ordinator. We are always happy to take your suggestions on board or tweak our menu to better suit your tastes.
When will 2024 menus be released?
Our chefs write new menus are the end of the year, ready to release at the start of each year. 
Can I bring in an outside caterer?
Walkabout Creek is operated by Cuisine on Cue, they are the exclusive caterers for the venue. Cuisine on Cue is a full-service catering company that can aid in every aspect of any event or function and are happy to customise a menu to suit your own style and tastes. Feel free to chat with our events team with any requests.
Can I provide my own alcohol?
Walkabout Creek does not offer any BYO services. We do however offer an extensive list of alcoholic beverages to choose from outside of the standard package. We are also willing to supply additional options at an extra charge. Please feel free to be in touch with an enquiry
Can we change the beers or wines in the beverage package?
Yes! We provide a premium wine package upgrade for $13pp. You select 1 sparkling, 1 white 1 red wine from our extended menu. 
We can provide a different beer of your liking. Prices depend on how expensive the beer is! Contact us to get a quote. 
What age are kid's meals required, and what age is considered a teenager?
You decide what age and meal is suitable for your kids and teenagers. We recommend kid's meals for ages 2 to 12. They are just $55 and are provided with cheesy garlic bread during pre-dinner drinks, and chicken nuggets with chips & tomato sauce for dinner. Teenagers are usually 13-17 years and eat the same meals as adults. Some 11 or 12-year-olds will want an adult meal, so it is best to double check! Teenagers are your package cost (they are different prices for plated, banquet, buffet & cocktail) minus $25, as the alcohol from their drinks package is removed. Kids & teens still receive unlimited soft drinks and juice. Babies are free of charge and we can supply highchairs. Remember to factor their highchair or pram into your floorplan.
Do I need to provide crew meals for my suppliers?
Walkabout Creek does not enforce crew meals for your suppliers. However, some suppliers (like photographers) will have in their contract that a meal must be provided if they work over a certain number of hours. They are only $42 (and include soft drinks & juice) so it is a nice gesture to provide them to your DJ, musicians, MC etc. You do not need to allocate them a seat in your room, they usually enjoy their meal away from the wedding when they take a break. Crew meals are not required for Walkabout Creek staff.
start planning your wedding
Discover the beauty of Finella and Marcus's wedding on the Lawn at Walkabout Creek, surrounded by nature. Read more.